If you're new to project management techniques and interested in developing your skill set, you've come to the right place.
In this guide, we'll walk you through some top tactics for keeping your projects on time, on budget, and set to deliver their full benefit.
Why is effective project management so important?
Good project managers are in high demand. Practitioners say nearly 70% of senior leadership teams highly value their skill set.
Which is no surprise, as poorly-trained project managers were seen as the second biggest project management challenge for organizations.
Without effective project management, projects are more likely to run over budget and miss their delivery deadlines.
Successful project management, however, means that projects are well-planned and resourced with clearly defined objectives.
An effective project manager provides leadership, facilitates relationships between the project team and the business, and monitors progress against forecasts to maximize resource use.
The best project managers have the knowledge and wisdom to make projects a success. They bring their previous experience to projects to help solve problems and overcome challenges.
9 project management techniques to improve outcomes
If you're asked to jump into the role of leading a project, it can feel overwhelming.
If you're still developing your project management skill set, use these nine project management best practices as a checklist to increase your chances of project success.
First up, you need to agree on the goal of the project. What is the project ultimately trying to achieve, and what does success look like?
This is crucial as it tests the project's viability and checks that it will create business value.
The project sponsor, who is accountable for the project's delivery, should work with senior management to ensure the project aligns with the broader business strategy.
Defining the goal of the project helps to engage stakeholders with the project as it paints a picture for the future, describing the benefits the project will bring.
This is vital as the project will rely on business stakeholders to provide project resources and champion the project with their teams.
Knowing what needs to be achieved helps set the scope for the project.
It defines the expected output and, as importantly, what won't be delivered. This enables a high-level budget and timeline to be agreed.
Next, you need to decide on a project methodology and framework.
There are two traditional ways to manage a project — using a Waterfall methodology or an Agile one. Some projects decide on a hybrid approach.
Using a project management methodology brings clarity to projects. The process is well understood, and roles and responsibilities are defined and communicated.
When deciding on a methodology, make sure to review the lessons learned from previous projects. They might provide a hint as to which methodology is more appropriate or how your chosen methodology may need to be tailored to the specifics of the project.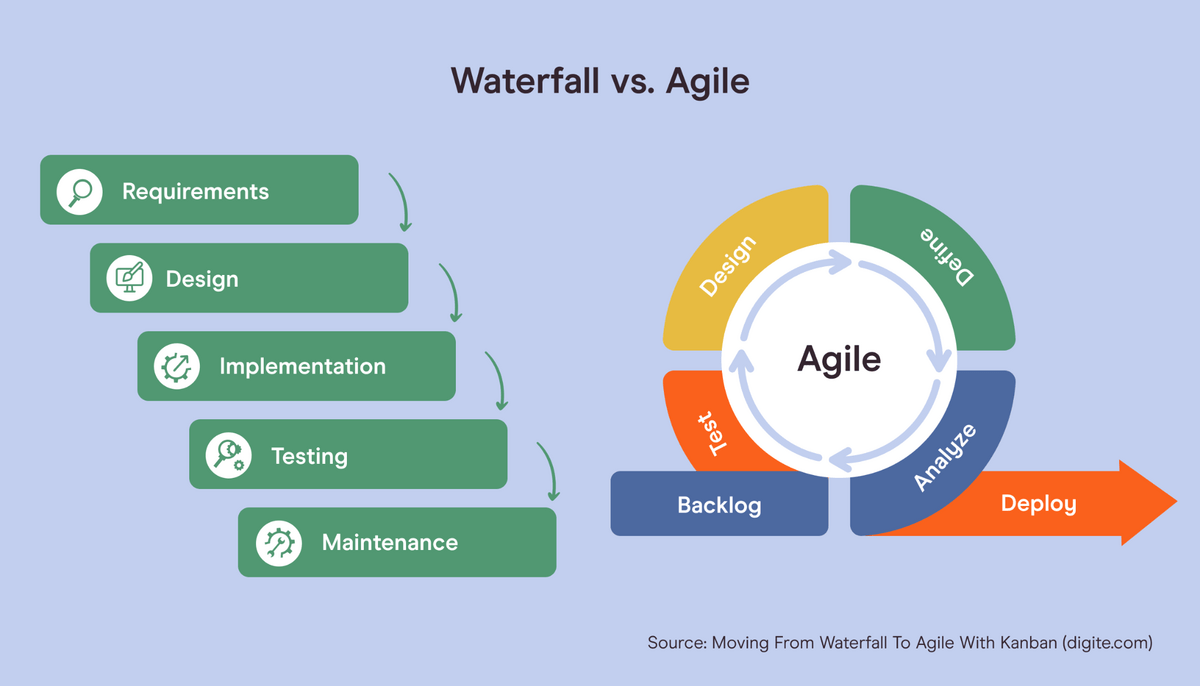 Generally, a Waterfall methodology is most appropriate for projects where the deliverables are clearly defined, and the project environment is less volatile.
It's a linear methodology that progresses sequentially from requirements gathering to implementation to transition to business as usual. The project planning phase is extensive, which means significant upfront investment by the business.
Using Agile works well when requirements are less certain, as the methodology allows them to evolve over the project lifecycle. Work is delivered in a series of short time periods and refined based on customer feedback to bring it closer to the overall project goal.
Close collaboration with stakeholders is essential for success in Agile projects.
A note on Agile frameworks
Several different frameworks sit beneath the Agile methodology. These include Scrum, Kanban, ScrumBan, and XP.
While these have different attributes, they all adopt the practice of development then iteration to bring the project closer to the desired deliverable.
The most popular framework is Scrum, with 66% of Agile projects using this framework.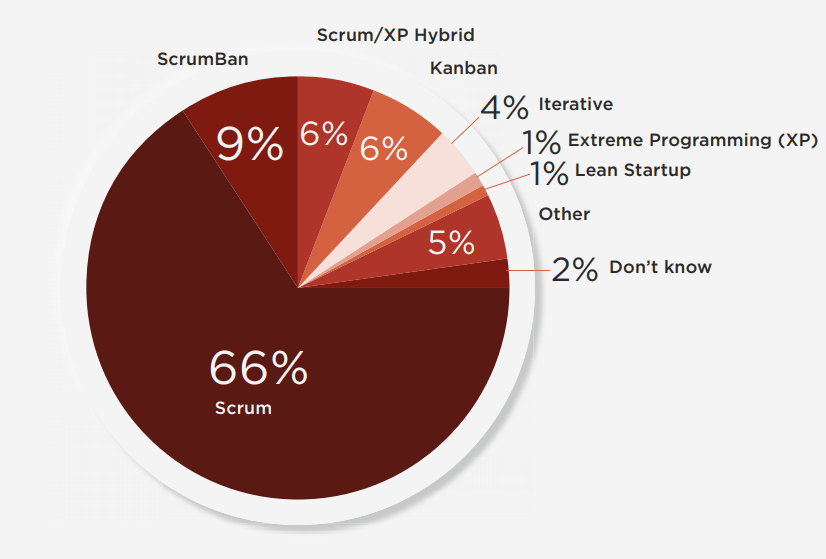 Break work down into smaller tasks
Once you've clarified the overall goal of your project and the methodology you're going to use to move it forward, you can begin to break the work up into more reasonable chunks.
Projects can often be large, complex, and daunting. Breaking down the key deliverables into smaller work packages makes it easier to get started and increases forecasting accuracy around resourcing and budgeting.
A work breakdown structure (WBS) is a great tool to help you get this done. It helps divide high-level objectives into discrete, manageable pieces of work.
As well as providing a checklist to make sure everything gets done, a WBS roots out dependencies between tasks and helps clarify the order you need to tackle things.
Your WBS should be written as a set of deliverables, not actions to be achieved. This allows for flexibility in how the work is tackled while ensuring all the key outcomes are met.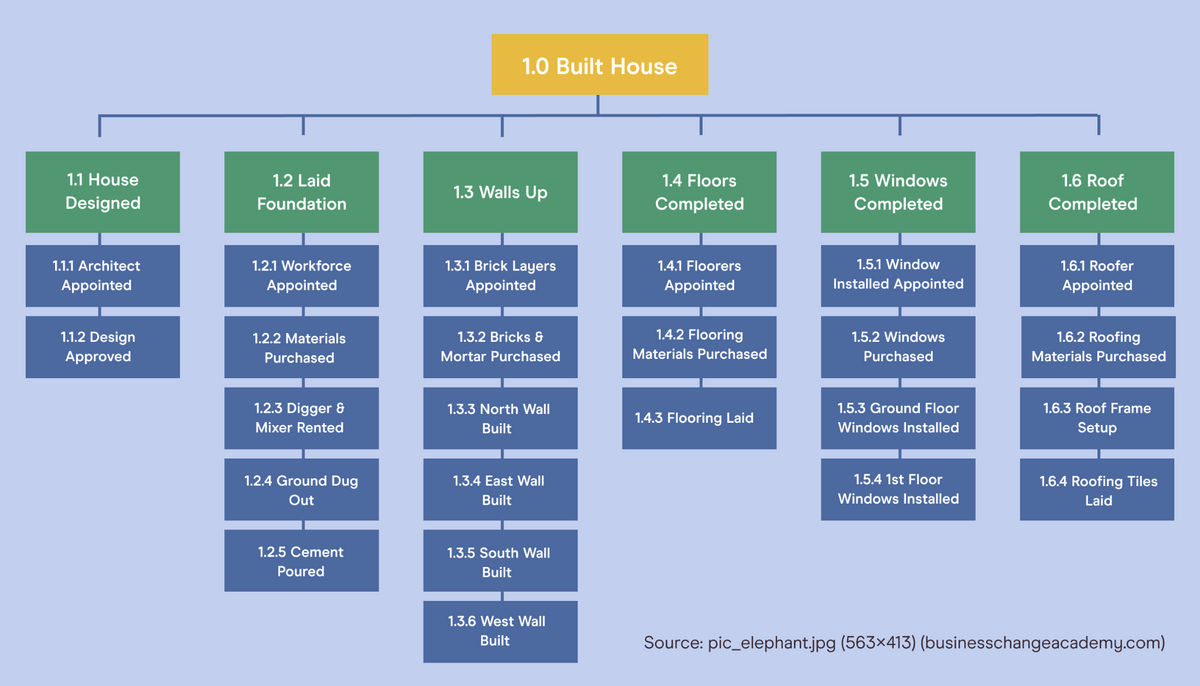 Analyze resource requirements
Now you've broken up the work, it's time to scrutinize each task and identify the people you're going to need to deliver them.
Consider your resource requirements from two angles, capacity and capability. Do you have enough people to deliver what you need, and do they have the right skills for the job?
Review these more detailed requirements against the high-level forecast created when the project scope was agreed. Do the forecast resourcing levels still seem appropriate, or is there an uplift required?
It's important to engage with stakeholders at this stage and check your assumptions about resources being released from the business.
If you're expecting to fill your project team with company employees, make sure you formalize those agreements and team members aren't going to be juggling project work alongside their day jobs.
Flag predicted resourcing deficits to the project sponsor and begin any recruitment that needs to take place to fill gaps in capacity or capability.
Schedule the work
Only 29% of organizations say they manage to complete their projects on time.
Accurate forecasting of both individual tasks and overall project duration is critical to beat that figure.
Your WBS provides a breakdown of the individual project tasks and how they relate to each other. The next job is to estimate the expected duration of each task so you can build a complete project timeline.
Using techniques such as CPM and PERT can be helpful in forecasting project duration.
The Critical Path Method (CPM) uses information from the WBS and estimated task duration to forecast how long the project will take overall.
After mapping out the project tasks, identify the longest string of tasks that depend on each other for completion. Those tasks are known as the critical path, and they must be completed to deliver a successful project outcome.
Adding up the duration of all the tasks on the critical path gives an estimate of the least amount of time it can take to complete the project.
The Program Evaluation and Review Technique (PERT) arranges your project tasks in a flowchart that shows the relationships between tasks. Each task duration is estimated using three data points — the optimistic, pessimistic, and most likely time.
It differs from CPM in that you can visualize the entire project duration, not just the critical path.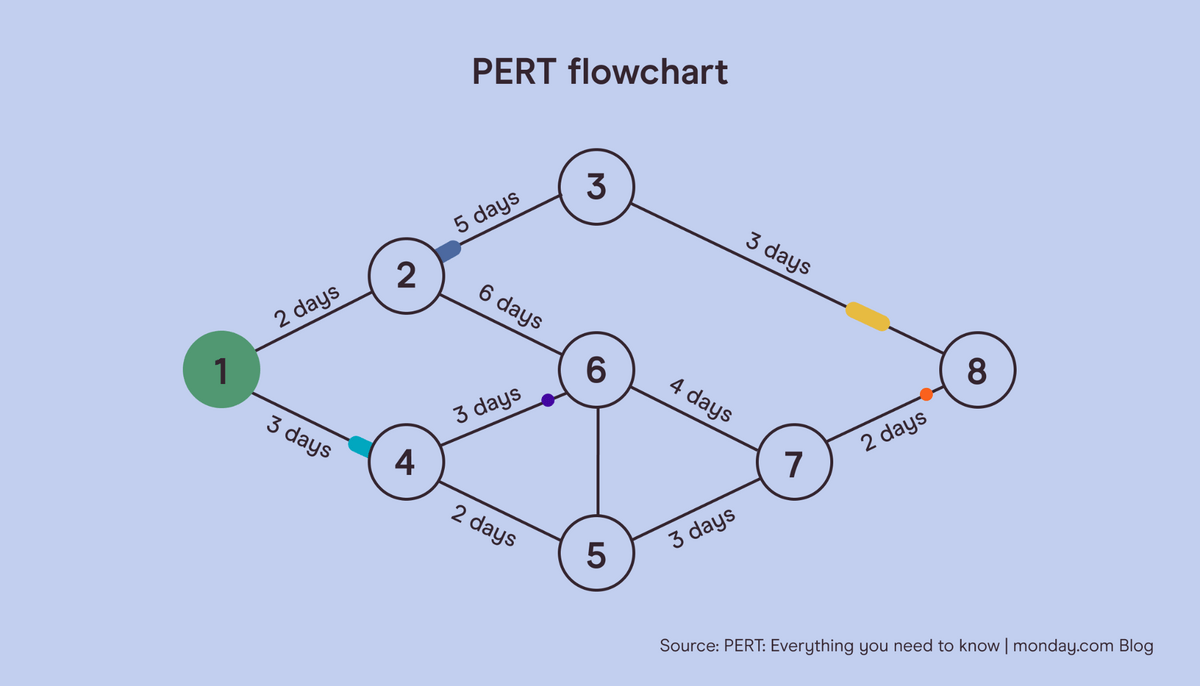 Don't forget to build a buffer into your planned project schedule. Projects carry a significant level of uncertainty, and buying yourself some leeway in case of unforeseen problems is a smart move.
Once you've agreed on the project schedule, use a Gantt chart to visualize the entire project timeline in one place.
Once work is underway, it's vital to monitor progress against key metrics such as time, budget, and deliverables.
Keep a close eye on actual project performance against forecasts. Modeling tools, such as S-curves can be a useful way to track project progress over time.
Simple reports that show a Red-Amber-Green update can be an easy way to communicate project status to stakeholders.
However you decide to track and report on progress, make sure you use your data to take action. Make adjustments as necessary to ensure resource availability meets requirements and flag any issues to the project sponsor early so they can determine a way forward.
Keep an eye on common challenges, like scope creep. Scope creep, where the scope increases from what was originally agreed, can significantly impact the duration and cost of your project.
Finally, don't forget to update the project risk log regularly with changing or emerging risks.
During the project, you'll need to communicate effectively with two specific groups, your project team members and external stakeholders.
Good internal communication is essential to keeping motivation high within the project team.
Sharing successes and highlighting how the project is progressing helps people see their effort is worth it and gives them insight into where they should prioritize their focus next.
It also improves project efficiency. Clear communication about who's responsible for specific tasks prevents confusion, speeding up how long things take to get done. It also minimizes the likelihood of something being missed or work being duplicated.
Effective external communication is vital to keep stakeholders, including the wider business, engaged with the project.
High levels of engagement are important for resource prioritization, the release of project funds, and smoothing the transition of the project into business-as-usual.
Project management software makes pretty much all of the above strategies a lot easier.
Whether it's project planning, scheduling, monitoring, or recording, leveraging a PM platform is going to save you time and effort.
Consider the work involved in drawing up a Gantt chart by hand versus software that can deliver you the same output in just a few clicks.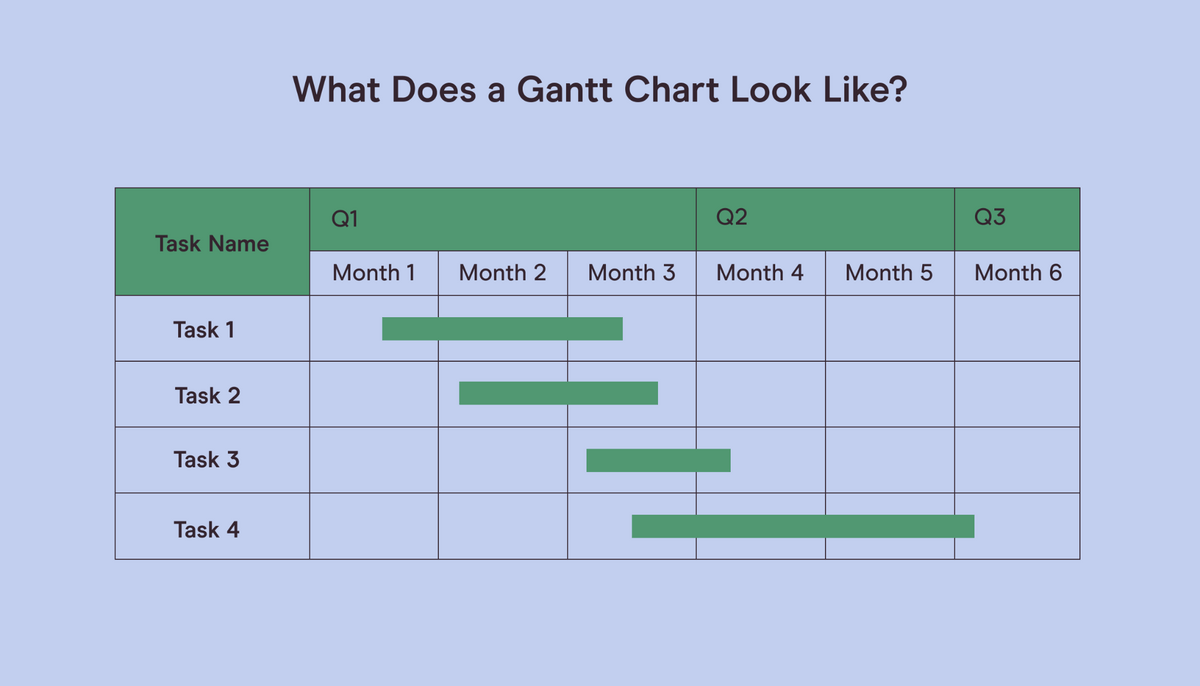 Plus, let's work to the assumption that producing a Gantt chart is not a once-and-done experience. Throughout the project lifecycle, you're likely to have to update the project schedule, shifting dependency start dates and impacting planned task duration.
PM software updates information in real-time which means your team is always working to the latest information, minimizing confusion and maximizing productivity.
And it's simple to generate project reports for interested stakeholders — showing progress against a range of metrics — which is crucial for continued engagement.
Nearly 40% of project managers spend over a day every month manually collating status reports. Project management software can release that time to be spent on something more valuable.
Close the project effectively
Once all the deliverables are complete, it's tempting to take a sigh of relief and plan some vacation days. But your job isn't quite finished.
It's important to plan an effective handover to the implementation team, ensuring you communicate anything you think will help them shift the project work into business operations.
Make sure you detail any lessons learned during the project. These are useful to inform future projects and may include things such as stakeholder communication preferences or resourcing assumptions.
Agree on where project documentation is going to be stored and archive all the relevant project documents.
Take the time to provide feedback to line managers of business employees, ensuring their contribution to the project is recognized. Also, seek feedback on your role as project manager to make sure you're continually developing your own skills.
Finally, make sure you take a moment to celebrate project success. Arrange a social event with project team members where they can reflect on a job well done.
Implement these project management techniques with your team
Project management skills are growing in demand. Effectively utilizing project management techniques, methodologies, and tools can have a significant impact on your project outcome.
In this article, we've outlined nine strategies you can implement to improve your project success rate today. But, adjusting to new ways of working can take time and strong team leadership.
If you feel your team management skills could do with a refresh, check out our practical course — High Output Management — at paretolabs.com. 
Pareto Labs offers engaging on demand courses in business fundamentals. Built to help you elevate your game at work, our courses distill complex business topics — like how to read financial statements, how to manage people, or even how to value a business — into digestible lessons. No business background required. Our library of 200+ lessons will teach you exactly what you need to know to use it at work tomorrow. Sign up for a free trial today to start watching.